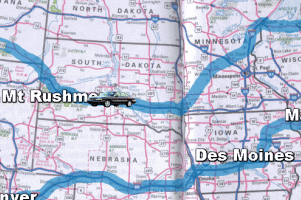 Summary Stats
| | |
| --- | --- |
| Miles Travelled | 550 |
| Gas Mileage | 27 |
| Coolest city name | Pukwana |
| Hours of sleep | 8.0 |
Day 1
Well, after a not-so-restful night just feet away from the busy highway, we got up and enjoyed hot showers and hot eggs prepared by Chef Eleven. We were happy that the car started this morning, but

decided that we'd better head to the nearest car parts store.

With the help of the friendly staff of the Hayward Bumper to Bumper, we diagnosed the faulty battery and replaced it with tools borrowed from the store. Just before noon, we're on the road again.
Southwest Minnesota was under severe thunderstorm, tornado, and hail warnings today. We thought this appropriate since that was exactly where we were. While listening to the radio we were ready to

encounter the "golf-ball-sized-hail" at any moment, but apparently managed to squeak by the major storm. However, we got an excellent view of the storm front when, for a minute or two of driving at about 5:30 p.m. the sky was darkened so that we required our headlights. Fortunately, we have left the major storm systems behind. Good luck Minneapolis.
We didn't quite make it to the Badlands, and ended up in the dirtiest campground in the universe in Murdo, South Dakota. We slept great, though, and we're off towards Mt. Rushmore.
Day 0 | Day 1 | Day 2
Home