Today was car cleaning day. Nancy and I vacuumed, washed, and waxed her car and the Neon. Scout was outside "helping" too, but soon decided she wanted to nap under the Neon. It's oily under there, so she ended up with oil in her fur. Time for her first ever B-A-T-H. Or in this case, a S-H-O-W-E-R.
Scout did really well. She squirms and makes unhappy noises when I trim her claws, but through the whole process of having a shower, she didn't claw, bite, hiss, or growl.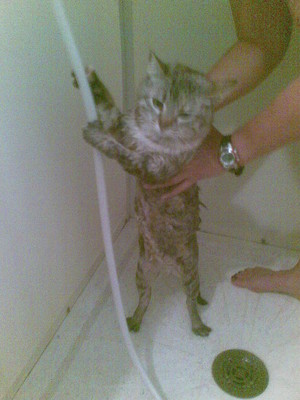 After her fur was mostly dry, she sat down and licked herself dry, purring all the while.
Video Player 12

She got a bowl of her favorite food as a reward.